Today, 16th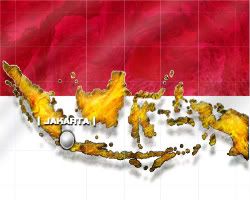 Oktober 2009, earthquake occurred again in Indonesia. Located in Ujung Kulon, West Java, this earthquake has a power about M 6.4 (medium) on Friday at 16.52 local time (UTC +7).

The temblor had its epicenter at 6.79 degrees southern latitude and 105.11 degrees eastern longitude or about 42 kilometers northwest of Ujung Kulon at a depth of 10 kilometers. The ground movement was very little. People in Bandung, capital city of West Java, Indonesia can feel the movement pretty clear and panic but nothing broken and no one died. However, In Jakarta, some people even not realized that earthquake at all.

An earthquake measuring 5.8 on the Richter scale also happened in Kendari, Southeast Sulawesi, on Friday at 2.33 local time. The quake`s epicenter was located at 3.54 degrees southern latitude, and 123.27 degrees eastern longitude, at a depth of 20 kilometers, and 88 km northeast of Kendari, according to information of the meteorological and and geophysics office

The earthquake did not have the potential to trigger a tsunami. No reports of casualties or damage were as yet received.

Let's hope there will be no greater earthquake in these recent days in Indonesia. Indonesia looked like still need more time to recover from the great earthquake in Sumatra. Before, on September 30, a powerful earthquake measuring 7.6 on the Richter scale struck West Sumatra and surroundings. The quake which was centered 78 km northwest of Padang, the capital of West Sumatra province, at a depth of 71 km in the seabed.

It caused major damage to 101,653, moderate damage to 48,966 and minor damage to 49,026 houses. Up till now, the West Sumatra earthquake has taken more than 1,000 lives, and left hundreds of people injured, and crushed 283,067 houses.

Indonesia is prone to seismic upheavals due to its location on the so-called Pacific Ring of Fire, an arc of volcanoes and fault lines encircling the Pacific Basin.